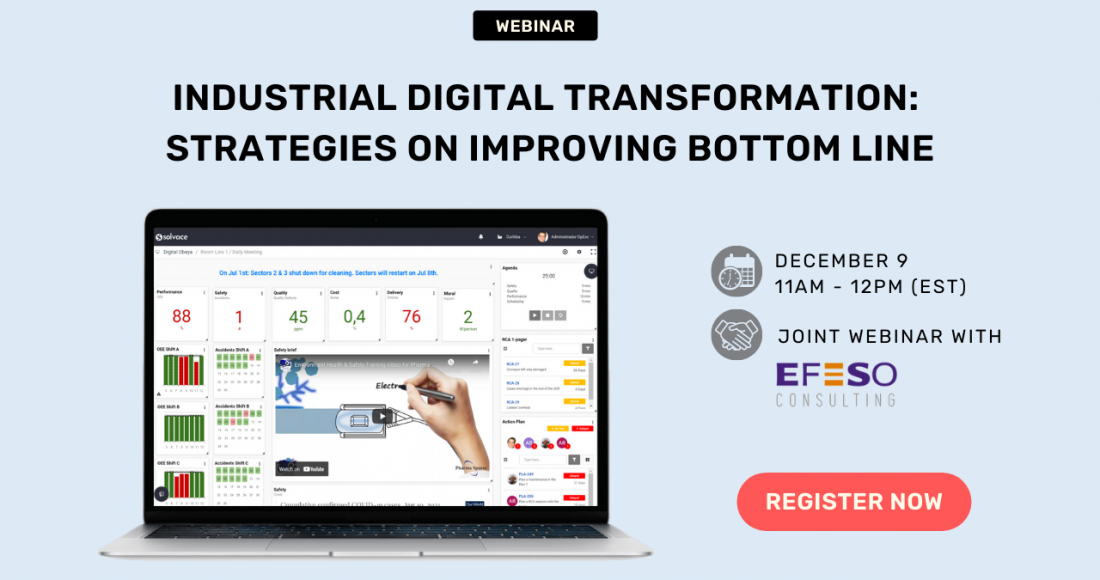 Would you like to digitalize your meetings, have data from different sources available in one platform easily and intuitive for your operators and managers?
Are you annoyed by the lack of good data, wasting time with finding the right data or on discussions what the right numbers are?
Are your performance meetings still on whiteboards, with Excel or on paper?
Do you need to speed up with your production, need better decision making in your plant?
If you answered YES to any of these questions, this webinar is for you.
Solvace is the platform that can offer you a digitalized location for all your meetings through Digital Obeya.
The digital platform called Solvace that aims to digitize Operational Excellence programs/tools, combines the best methodologies (Lean, WCM, TPM, …) with Industry 4.0 technologies in a single platform.
Our mission is to free up time of operators, supervisors, plant managers,… eliminating the paper work (NVAA), increase speed and enable better decision making ensuring the standardization and knowledge sharing within and across sites.
Digital Obeya is a module where you can completely design your own board, connect boards, action items, RCAs (root cause analysis), and can integrate any data from any other source (real time machine data, SAP etc).
During the webinar, we will show the actual platform and the Digital Obeya module, share the benefits and options available for usage.
This webinar will be given in partnership with EFESO.